For Naha Machima hoo to walk with a guide
In Naha City Tourist Association, detailed guide to "guide and walking Naha city," the theme to the history and culture, operates a business that guide tour Naha Machima hoo to guide you through the Naha city while exchanging the local story you have.
For general (an individual and an organization)
Walk Naha city, was I know "Naha Machima – have guide" is, a place like not on the guide book, will guide sprinkled with fresh story in close contact with the region from a new perspective.
Is a classic "Shuri Castle", "Kokusai-dori Street", "Tamaudun (bestow Dun)," "Shikinaen Royal Garden" also will guide you from a new perspective that goes beyond the traditional guided in such.
Moreover, I think that he would like to also realize the exchange with the person of the area.
Ohitori-sama to the organization can respond according to demand.
For [ of a school trip ] you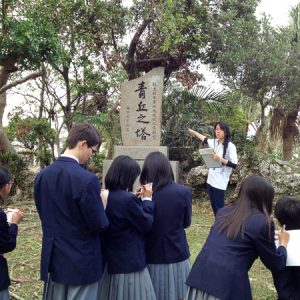 I offer the college student guide program "one day usual state of a smile life base" by the "market" course with which gastronomic culture peculiar to Okinawa is touched, the "Shuri Castle" course with which the history of its Ryukyu Kingdom days is touched, the "old battlefield" course of peace study, the reading play, and the student of Okinawa International University, etc.
For tourist tickets available
In the case of entrance to the Naha institution, I can use a sightseeing ticket.
The institution and the tour company with a sightseeing ticket contract are as follows. Please use.
Tourist facilities

Naha City Historical Museum
Naha Municipal Tsuboya Pottery Museum
Shikinaen Royal Garden
Tamaudun

Tour company

JTB, Inc.
Nippon Travel Agency, Inc.
Meitetsu sightseeing service incorporated company
Incorporated company agricultural cooperative association sightseeing
Okinawa bus incorporated company
Kinki Nippon Tourist Co., Ltd.
Okinawa tourist incorporated company
Club tourism incorporated company
TopTour Corporation Ltd.
ANA sales incorporated company
Co., Ltd. Jumbo Tours
White bare-family Co., Ltd.
Hankyu Express, Inc.
Ltd. Sukaitsuazu
Incorporated company HANS ADVENTURE
Inquiry The event division TEL: 098-862-1442
Naha sightseeing guidebook "NAHA NAVI"
Two types of general purpose (wide area, Kokusai-dori Street) and for school trips (Kokusai-dori Street).
Please use according to a travel style.
Request for information and PDF download are here.
Information of advertising collection
The advertisement to a sightseeing informational magazine "NAHA NAVI" is received at any time. Please do not hesitate to ask.
Inquiry The event division TEL: 098-862-1442