The area where Sunrise Naha Street is now located was a rural area before WWII. Like many shopping arcades in Naha, it started after the war as an open-air market in the shade of a banyan tree. In a matter of time around 100 vendors were taking up the entire street, which became one of Naha's major shopping districts.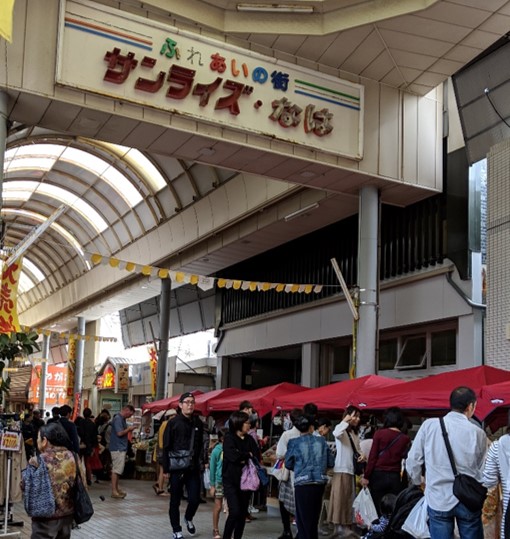 Though Naha Sunrise Street has lost some of its luster today, its many shops and restaurants still cater to the everyday needs of the neighborhood. It has been garnering attention lately thanks to a monthly rendezvous for gourmets and local craft lovers– the Sunrise Market.
Started in October 2017 by young shop owners who wanted to revitalize the lethargic shopping arcade, the Sunshine Market brings together shoppers and producers from all over Okinawa.
Want to get a taste of things from outside the city but don't have a means of transportation? Not to fear – you can enjoy products from throughout the island and abroad, without having to leave Naha. Just head down to Naha Sunrise Street on the 2nd Sunday of the month!
The Market features the very best of what the island has to offer. At the January market, along with local delicacies – both traditional and modern – market-goers could enjoy Brazilian coxinha, British fish and chips, South Korean tteok-bokki, Vietnamese phở, and other treats from Taiwan, Egypt, the Netherlands, France, and Hawaii, etc. Many of the stalls source local ingredients from throughout Okinawa, with producers coming all the way from Ogimi Village up North, to Itoman City down South.
Vegans, vegetarians and health-conscious consumers in particular will appreciate the vast choice of vegan food, pesticide-free local produce, EM eggs, sweets without additives, and macrobiotic desserts.
The concept as stated on the market's official website is to "provide a place for producers and consumers to meet. See the faces of the farmers of vegetables and fruits and the craftsmen of pottery, textiles, and accessories. Happen across food using local ingredients. Narrow the gap between shop [and customer]. Encounter an Okinawa you never knew before as you casually stroll through town. Make Sundays a little more wonderful and a little more fun. A Sunday market that will make Okinawa a little more interesting."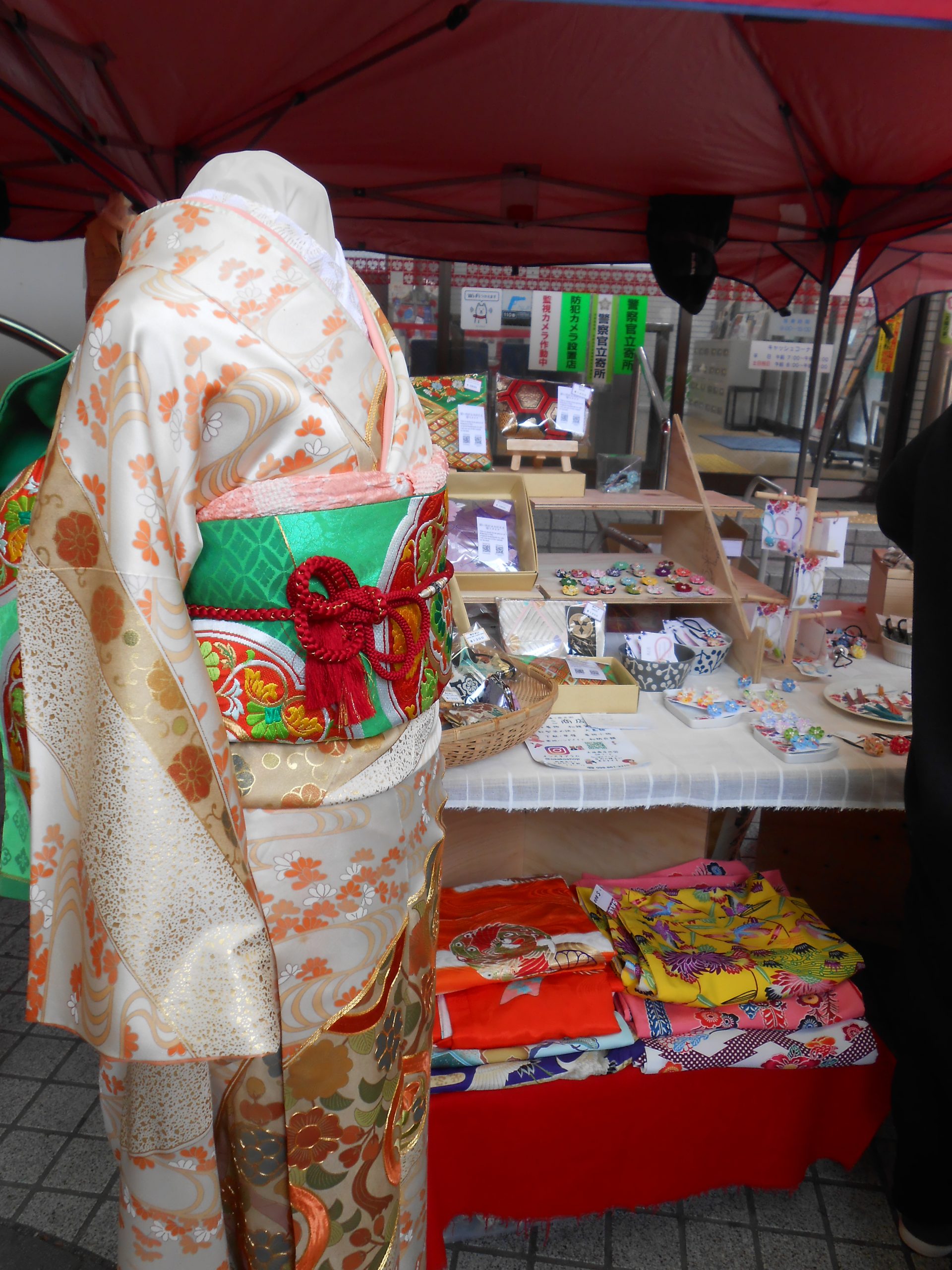 As you stroll through the market, you have the opportunity to speak with producers directly and hear about their knowledge, commitment, stories, and zeal.
With a myriad of merchandise, there really is something for everyone. Aside from the scrumptious fare, there is also a multitude of handmade arts and crafts worth admiring. It's nearly impossible to leave empty-handed—expect to leave with full shopping bags and a contented belly.
Going to Sunrise Market is a refreshing break from the mundanity of everyday life. Vendors also change every month, so there's something to look forward to each time you go. Some of them don't even have regularly operating shops, so you can only enjoy their products at events like this one. You definitely don't want to miss it!
Be sure to mark your calendars for February 10 and March 10!
Access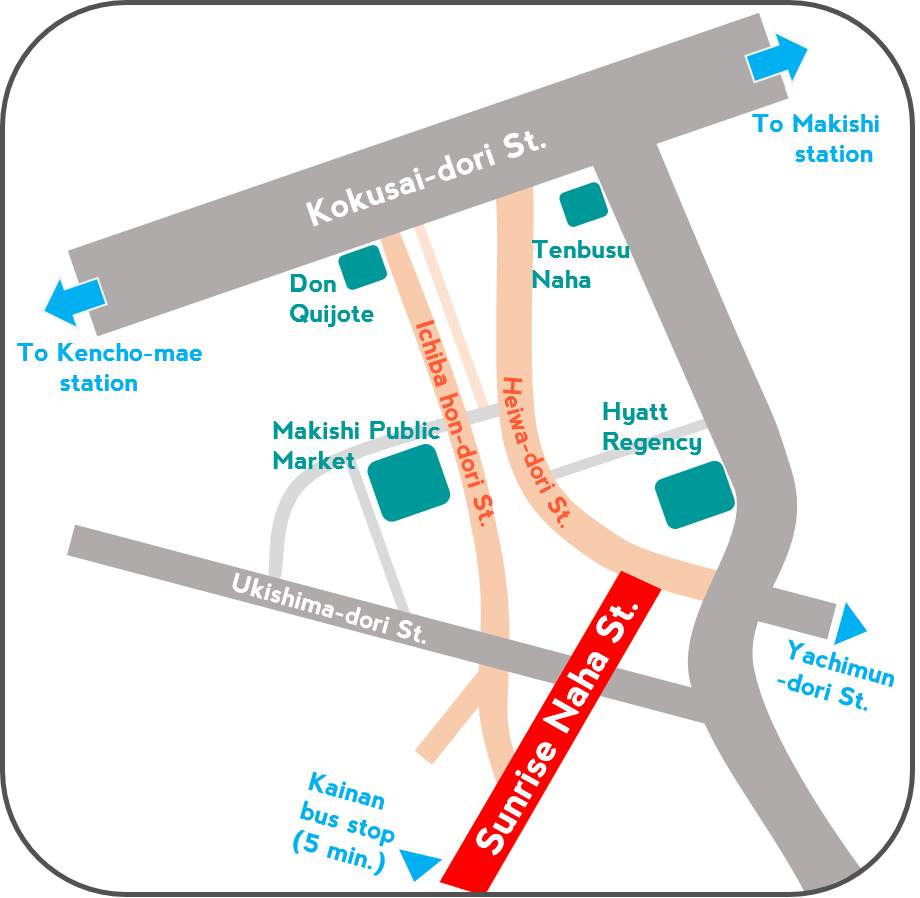 The market generally takes place on the second Sunday of the month. Check the market's official website and Facebook (links below) for the upcoming dates!
https://www.facebook.com/sunrisemarket.naha/ (partly in English)
https://sunrisemarket.jp/ (in Japanese)
Naha Sunrise Street
10-minute walk from Kokusai-dori Street.
(If coming by car or taxi, beware as Kokusai-dori Street is closed to traffic on Sundays from 12:00 to 18:00.)
5-minute walk from Kainan bus stop and Tsuboya Yachimun-dori Street.