Shikinaen Garden is one of the most emblematic historical sites in Shuri with the Shurijo Castle and the Tamaudun Mausoleum. This Ryukyuan-style garden was completed in 1799, and was used as a secondary residence for the Royal family and as a place to entertain envoys from China.
Explore the garden
| | |
| --- | --- |
| | The Ikutokusen Spring, in which grows the rare shimasuji-nori weed. |
| | Please be careful as the cobblestone bridge may be slippery when wet. |
Buses to Shikinaen
Shikinaen is a little bit farther from downtown Naha than Shurijo Castle. You might find a tour that includes transportation, but if you are on your own, or if you like to take your time, the most convenient way to get there is to take a taxi.
A number of buses will also take you to Shikinaen Garden:
★ From Palette Kumoji Department Store (Prefectural Office Station)
・ From Palette Kumoji Mae bus stop: #14
・ From Okigin Honten Mae bus stop (in front of the bank across from the department store): #5
・ From Kencho mae bus stop (in front of Hotel Rocoa Naha): #2

★ From Tsuboya and Kokusai Street area:
・From Tenbusu Mae bus stop (in front of McDonald's): #5
・ From Tenbusu Mae bus stop (in front of Tenbusu Naha): #14 (slower)
★From Fushushuen Garden
・ Take bus #2, #3 (slower) or #5 at Kume Koshibyo-mae (across from the garden's gate)
★ From Tomarin Ferry terminal
・ Take bus #3 in front of the terminal
★ From Shintoshin area
・ From Kenritsu Hakubutsukan mae bus stop (in front of the museum): #3
・ From Omoromachi ekimae hiroba bus stop (Omoromachi station): #4 (slower)
★ From Shurijo Castle
・ From Shurijo koen Iriguchi bus stop (on the side of Ryutan Pond): #14
Walk the Madamamichi road
For those who visit during the cooler months in winter, or for those who are fit and like to salk, there's the option of walking from Shikinaen to Shurijo Castle, or the other way around. Beware though, it's only 2km (1.3 miles) but you will be walking up and down hills, and there are little signs along the way. In order not to get lost, we recommend you Google the itinerary from Shikinaen to Shureimon (Shurijo Castle's main gate). It's quite the hike but the sight, especially along the Ishidatami stone path is lovely.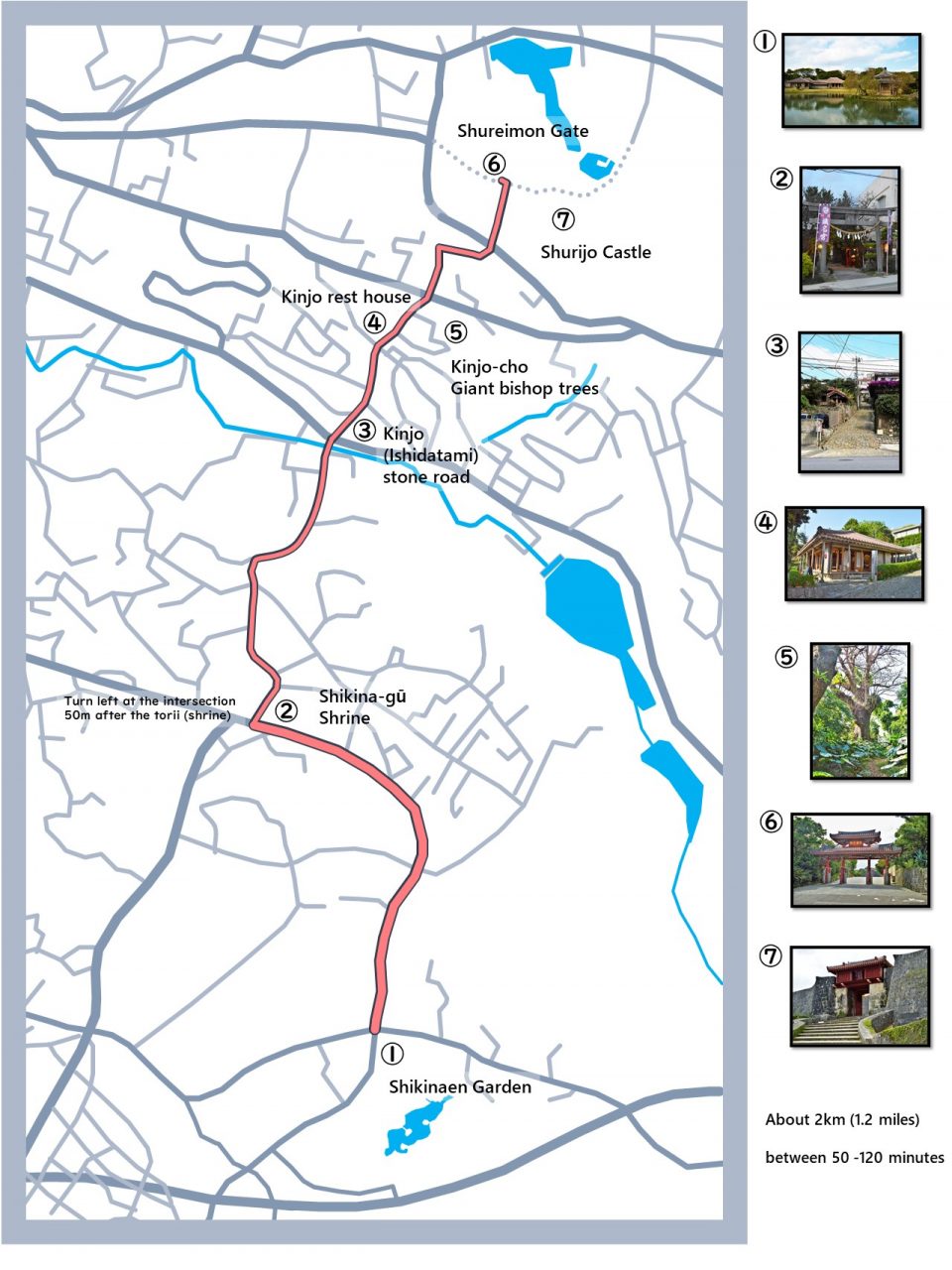 If the rather inconvenient location is not a turn off, Shikinaen Garden is a place you should consider visiting while in Naha. It is one of the most beautiful and well-preserved historical site in Naha, and it offers typical views that have changed very little since the times of the Ryukyu Kingdom.