For centuries, Shuri prospered as the capital of the Ryukyu Kingdom., and traces of that glorious past can still be seen all over town. Follow us on a leisurely walk from Shuri Castle's Keiseimon Gate to the Kinjo-cho Ishidatami stone path!
Keiseimon Gate
The Keiseimon is the exit gate from the Ouchibaru, the royal family's private quarters that were opened to the public in 2019.
Leave from here when you are done visiting the Castle, and let's go explore the castle's surroundings!
Zuisen Distillery (3 minutes from the gate)
An Awamori distillery with a long history, Zuisen was founded during the Ryukyu Kingdom era. The company has one of the largest selection of aged awamori in the prefecture, as well as a wide variety of awamori-based liqueurs made with ingredients produced in the prefecture. Factory tours and free tastings are available. (a reservation is needed).
Hours: 9:00 – 18:00 (entry until 17:00)
https://www.zuisen.co.jp/
Kuganizēku Matayoshi silversmith (2-minute walk)
Mr. Matayoshi still crafts silver accessories according to techniques that were passed down in his family from the times of the Ryukyu Kingdom, when his ancestor was sent to China by the King to study silversmithing. The Matayoshis have made been making silver hairpins and traditional wedding rings for centuries, with only a short interruption after WW2.
Hours: 9:00 – 17:30 (closed on Sundays)
http://kuganizeiku-matayoshi.com/ (in Japanese)
Sakiyama Park (3-minute walk)
A nice panoramic view of Naha!
Sagaribana Alley (5-minute walk)
Zuisen Street is lined with Sagaribana (Barringtonia racemosa), a species of trees whose flowers bloom at night and fall in the morning during summer. From June to August the street is filled with their sweet fragrance, and is a great place to take a stroll in the evening.
Arakaki Apiary Honey Shop (5-minute walk)
For some years, the Aragaki Apiary has been contributing to Shuri's community development and education through bees. They sell Shuri Dynasty Honey, propolis, and royal jelly, and also offer hands-on workshops.
Hours: 9:00-19:00
http://www.aaa888.org/ (in Japanese)
Kinjo-cho Ishidatami stone path
The Kinjo-cho Ishidatami stone path was built in the 16th century as a main road leading from Shuri Castle to the south of the island. It used to be as long as 10 kilometers, but only a 300-meter stretch of it remains today. The road is paved with beautiful Ryukyuan linestone and is lined with old houses on both sides, giving it a charming atmosphere. There are also many places to eat and power spots along the way, making it a great place for a leisurely stroll.
Kinjocho Redwood trees
Down the stone path and to the left is the Uchi-Kinjocho sacred site, where locals still pray occasionally. Inside the sacred site are five 200-year-old redwood trees that miraculously survived the bombing of Naha during WW2.
Shuri Kinjocho Community center
This traditional house serves as a place of relaxation for local residents and weary travelers. Restrooms and vending machines are also available.
Hours: 9:00 to 18:00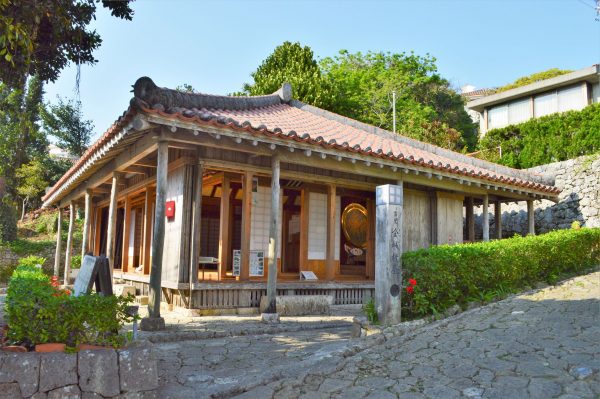 Did you enjoy your walk? There are many other things to discover along the way, and plenty of cafes and local restaurants where you can take a break and rest your feet. And don't forget to stay hydrated.