Though the precise date the shrine was constructed is unknown, it is widely believed to have been built in the 14th century. With a wonderful view of Naha Port and the ocean from atop a bluff, this place has long held an important place in the hearts of the locals, and was a site for worship and prayer to the gods (Nirai-kanai) long before the shrine was founded.
During the Ryukyu Kingdom Era, Naha Port served as a trading hub for several Asian countries, and many sailors came to pray for safety while at sea. Every New Year, the King and attendants would come to the shrine to pray for peace and prosperity, turning the shrine into the most important religious site in the whole kingdom.
During the Battle of Okinawa in 1945, the shrine was destroyed, but due in large part to the assistance offered from the Okinawan people living in mainland Japan and Hawaii, reconstruction began in 1952, and it was fully repaired about 10 years later.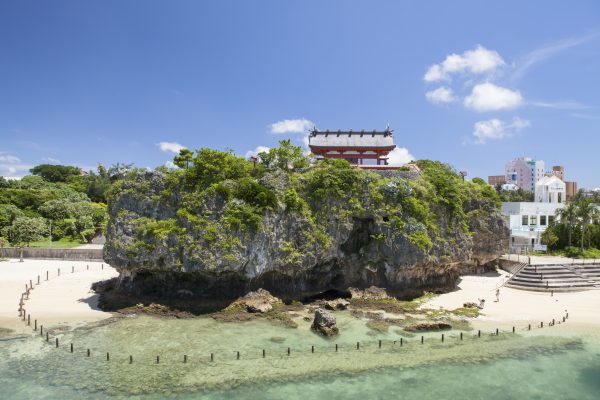 Company name
Naminoue Shrine
Street address
〒900-0013
Wakasa 1-25-11, Naha, Okinawa
Access
・A 15-minute walk from Asahibashi Station
・10 minutes by taxi from the airport (about ¥1200)
・A 3-minute walk from Nishinjo Bus Stop (bus lines [2] [5] [15] [45])
Example price
Free
Website
http://naminouegu.jp/english.html
Parking available

Parking available (free)

There is pay parking nearby

Free parking (20 spots). When the parking is full, please use nearby paid parking.

Business hours
Open 24/7
Closed
Open year-round
Contact
098-868-3697

Naminoue Shamusho (shrine office)
Access