In recent years, the increase of foreign visitors has raised the question of how to best accomodate people with various dietary habits. Even locally, many people are asking for additive-free, organic ingredients, and vegetable-centered healthy food.
Thankfully, Okinawa's nature provides many kinds of vegetables with high nutritional value, and in Naha, an increasing number of businesses make use of those veggies to offer muslim and/or vegan friendly options.
Here is a list of restaurants, as well as some pieces of information for our fellow travelers with those kinds of specific needs.
Muslim and/or vegan friendly facilities in Naha
★Download: Muslim and/or vegan friendly facilities in Naha
The information in the above list is as of Dec., 2020, and is subject to change. Please contact each facility or restaurant directly for details. Please note that this list is not exhaustive.
Useful Information
If you are looking for some snacks to take home:
① Halal snacks:
– Purple potato tarts from Okashi-Goten (certified Halal)
② Vegan snacks:
– Jimami-dofu (※contains peanuts)
– Mozuku seaweed
Facilities with a prayer room
【In Naha】
■Naha Airport International Terminal 4F (7:00-22:00)
A Japanese style multifaith prayer space with two single-sex prayer rooms and ablution facilities.
■Naha City Tourist Information – Tenbusu Naha 1F (9:00-19:00)
You can request to use the staff's resting lounge.
【Outside Naha】
■AEON Mall Rycom (Kitanakagusuku Village)
■Okinawa Masjid, Okinawa Islamic Culture Center (Nishihara Town)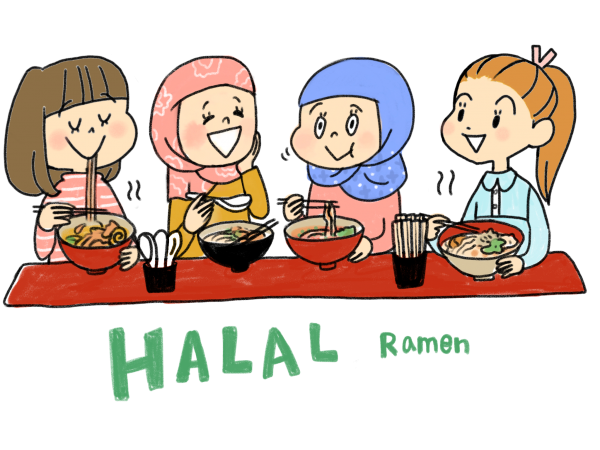 Food Pictograms (Source: OCVB)