Have you noticed the colorful shirts many Okinawan people wear at work? That's what is called "Kariyushi wear" in Japanese. It's a must-have piece of clothing if you plan on staying for any length of time in Okinawa, and many visitors also like to wear one to keep cool during the hot summer in the islands. Let's have a look at this typical Okinawan outifit!
What does "Kariyushi" mean?
In Okinawan language, "Kariyushi" means "auspicious", and the word is associated with happy occasions.
It also has the meaning of "harmony with nature", a very important concept to Ryukyuan people, who had to live off the land and the sea under sometimes very hostile conditions.
The roots of Kariyushi wear
They were first sold in 1970 as "Okinawa shirts" by the Okinawa Prefectural Tourism Federation. They became popular nationwide after the G8 leaders wore newly rebranded "Kariyushi wear" at the Kyushu-Okinawa Summit in 2000.
Fabrics and patterns
Kariyushi wear must by definition be made in Okinawa and display features of Okinawa culture and/or nature. Many patterns are directly inspired by traditional fabrics such as Ryukyu bingata, Shuri-ori, or Yaeyama minsa. Hibiscus, bitter melons, shisa lions and other typical Okinawa features are also very common.
In recent years, eco-freindly materials are also used: fiber made from the stalks of shell ginger, or mixed with weathered coral, and buttons made from the shell of edible Takase shellfish.
Fit for business?
In the prefecture, it has become an established office wear for summer. It is also worn at weddings, and is especially well suited for outdoor weddings on the beach, or garden parties. There are even plain, jet-black ones that are can be worn at funerals.
The Japanese government is also promoting the use of Kariyushi-wear as a part of their "Cool Biz" campaign, which encourages people to work in light clothing in order to lower offices' electricity consumption in the summer.

Naha City is home to many kariyushi wear specialty stores.
Today we visited MANGOHOUSE No.3 on Kokusai Dori and MAJUN Okinawa in Tsuboya to get their recommendations on what to wear!
【Open collar type】
This is a general type that has a sense of freedom at the neck. You can wear it like an aloha shirt.
【Button-down type】
This type of shirt has buttons all the way down to the neck, making it more suitable for business situations.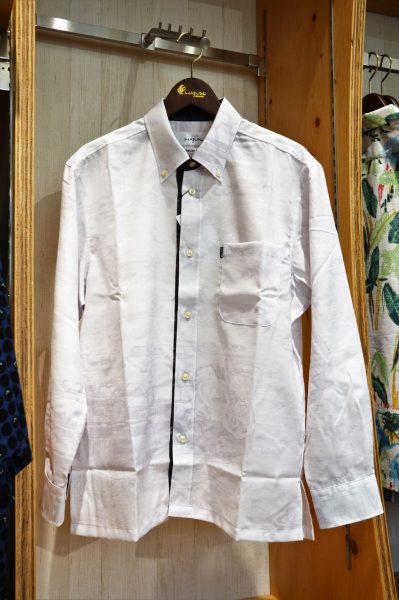 【Mao collar type】

A stand-up collar type with a formal look.
【Dresses】
There are a few different types of kariyushi dresses, from casual ones with a resort feel to elegant summer dresses that can be worn at weddings. There are also a variety of lengths and designs, so be sure to find your favorite.
(Special thanks to Mango House Kokusai Street No.3 and MAJUN okinawa Naha Main Store for their cooperation.)
Summer is not over yet in Okinawa! There's still plenty of occasions to wear some kariyushi!