Strolling through the city, you are likely to encounter one of Naha's many "design manholes" covers. Those specially designed lids usually representing the characteristics of each region are now found all over Japan, but they ore said to have originated in Naha in the late '70s.
The birth of design manhole covers
The first design cover appeared in Naha in 1977. It shows a school of "fish gleefully swimming and playing in waters purified by the sewage system". It is said to have been conceived by a Naha City employee while eating horse mackerel at a grilled fish shop.
Still in use today, it is said to have inspired other cities to design their own manhole covers, in the prefecture and then all over the country.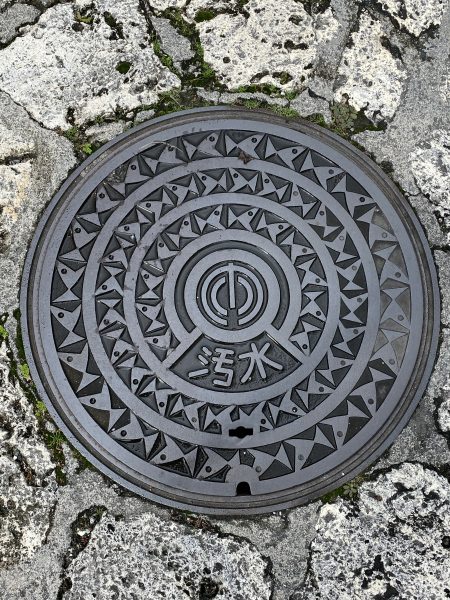 Naha's original manhole covers
In 2013 a number of new covers were designed to blend better with their surroundings, while highlighting some of iconic features of Naha's landscape and culture.
① Tsuboya's Great Shisa Lion Statues - Tsuboya district
About 3.4m tall and weighing about 3 tons, the two Shisa Lion statues in Tsuboya and Saion Square have become symbols of the pottery making culture of Tsuboya district.
② Bougainvilliers - Tsuboya district
The official city flower. Bougainvilliers blossom during the colder months, with colors ranging from white to bright pink and purple.
| | |
| --- | --- |
| ⒸOCVB | |
③ Large Tree Nymph (Idea leuconoe) - Tsuboya district
The official city butterfly. It is said to be the largest butterfly in Japan.
| | |
| --- | --- |
| ⒸOCVB | |
④ Hanagasa hat - Tsuboya district
These hibiscus-shaped hat are mostly worn by noblewomen in traditional theater and dances.
⑤ Shuri-ori weaving - Shuri
Shuri-ori is traditional fabric and one of Naha's most famous traditional crafts.
⑥ The 100th anniversary logo
This lid was made in 2021 to commemorate the 100th anniversary of the creation of Naha City. It can be seen in various places, such as the entrance to Heiwa-dori Street arcade, on Saion Square, in Shikinaen Royal Garden, at Shuri Station, in front on AEON Naha, or at Naha Water Department's office in Omoromachi.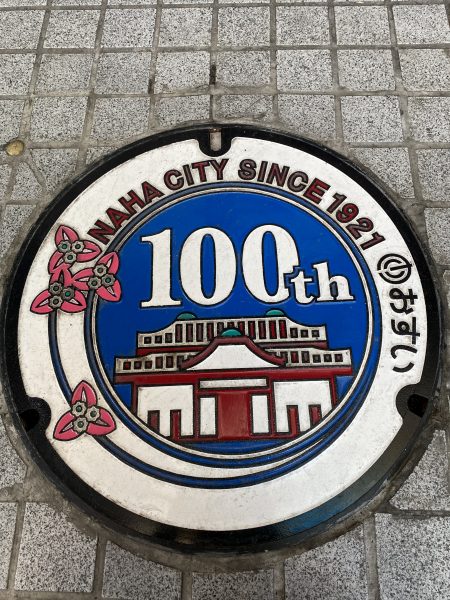 Other special manhole covers include :
★ Shurijo Castle (near Palette Kumoji)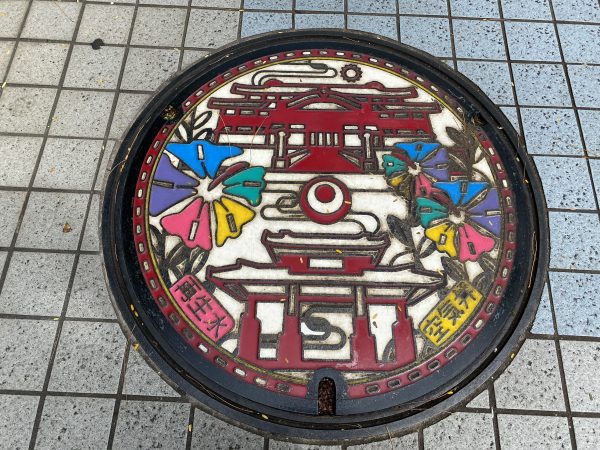 Designed for passers-by to take a picture and to draw attention to the reconstruction of Shurijo Castle, whose main hall was destroyed in a fire in 2019. (From Okinawa Prefecture website)
★Pokémon manhole (in front of Tembusu-kan)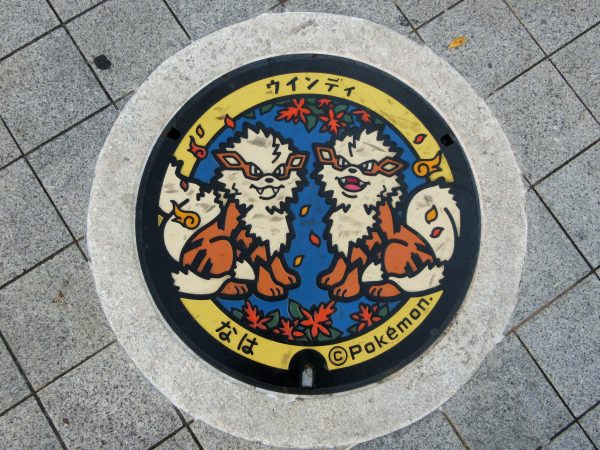 To each town in Japan its unique Pokémon manhole cover! The one in front of Tenbusu Naha features a pair of Arcanines posing as evil spirit-warding Shisa lions. Ginowan, Okinawa City, Uruma, Nanjo and many other cities in Okinawa also have their own custom Pokémon manhole covers. Gotta find'em all!
Manhole cover collectible cards
Collectible manhole cards are distributed free of charge by local authorities across the country since 2016, with the aim of deepening understanding and interest in sewerage systems.
On the front, there is a photograph of the manhole and the latitude and longitude of the location where it was taken, while on the back is explained the origin of the design. Some fans collect the cards from all over the country.
Check below to get your set of cards.
To learn more
Naha City Water and Sewerage Department (Naha, Omoromachi 1-1-1)
Hours : Monday to Saturday from 8:30 to 18:00
closed on National Holidays and June 23rd
Design manhole covers are displayed in the lobby.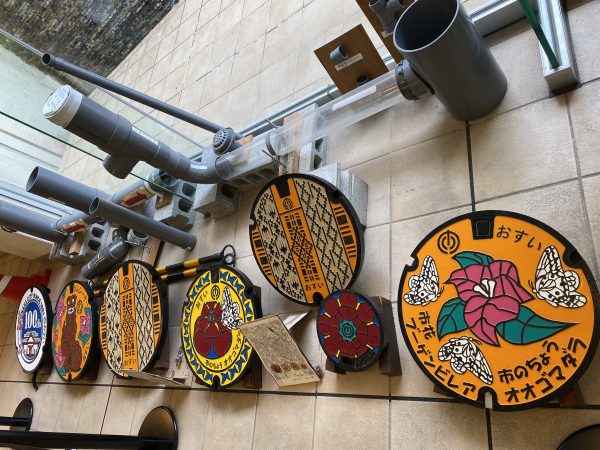 A souvenir of your trip
While each area in Japan now has its own custom manhole covers, it is easy to pass by them by accident if you are not paying attention. But if you do notice one, why not taking a quick picture as a souvenir?
Source for the article: "50-years of sewerage system in Naha"