One of the Eight Ryukyu Shrines, Okinogū is purported to have been constructed in 1451. The story of its construction depicts the king at the time, spotting a strange light from Shuri Castle which came from the sea. He ordered the fishermen to search for it, and they discovered an unusually ancient tree. It was enshrined as a sacred tree, and it was for this reason that the shrine was built. During start of the Shō Dynasty, it began to accumulate reverence, envoys from China and Satsuma, and even those from remote and far-lying islands came to pray for safety during their ocean voyages.
Okinogū Shrine was burned down during the Second World War, and its location was subsiquently changed many times, but in 1975 it was moved to Tentōzan, a sacred place from ancient times, where the shrines stands today.
Tentōzan has a superb and sweeping view, the best in Naha!
There is also a cafe on located within the shrine grounds.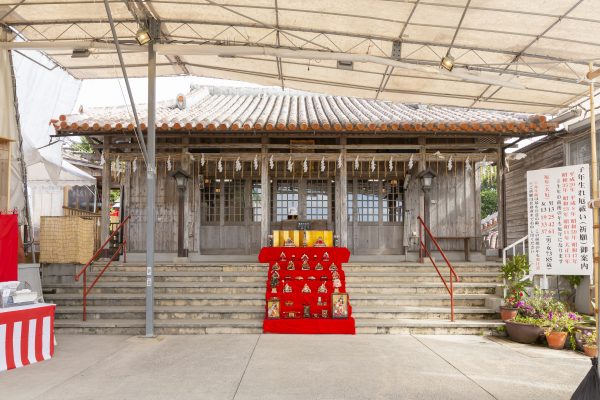 Company name
Okinogū Shrine
Street address
〒900-0026
Okinawa, Naha Onoyama-chō 44 (inside Onoyama Park)
Access
A 5-10 minutes walk from Onoyama Park Station
A 5-10 minutes walk from Tsubogawa Station
Website
http://okinogu.or.jp/?language=english
Business hours
Shrine Office: 9:00-16:30
Contact
info@okinogu.or.jp
Access